Want to try grinding beans but don't want to invest in a burr grinder? We hear ya!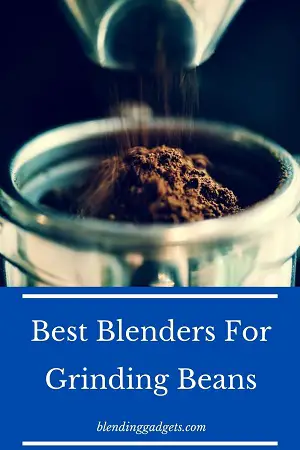 When it comes to the BEST blenders for grinding beans, you need a blender with an ULTRA powerful motor, SUPER STRONG blades, and enough speed settings to grind SLOW so you don't, you know, cook the beans.
The hotter coffee beans get during the grinding process, the more bitter the coffee will taste.
All the blenders below have everything needed to grind the toughest of beans. Even light roast coffee beans that are denser than dark roast beans are a breeze for these. Each blender is multifunctional, and since each user will use them for different purposes (other than grinding beans), each has been categorized to make it easy for you to find the best blender for how you'll be using yours.
Best Blenders Reviewed
Best Overall: Ninja BN801
Best Countertop Blender: Vitamix 5200
Best Professional-Grade Blender: Blendtec Total Classic Original
Best Versatile Blender: Breville BSB510XL
Best Compact Blender: Nutribullet Pro
Quickly Compare The Blenders For Grinding Beans
Title
Price
Image

Top

Ninja BN801 Professional Plus Kitchen System with Auto-iQ
Check Price
Vitamix 5200 Blender Professional-Grade
Check Price
Blendtec Total Classic Original Blender
Check Price
Breville BSB510XL Control Grip Immersion Blender
Check Price
NutriBullet Pro - 13-Piece High-Speed Blender
Check Price
Best Blender For Grinding Beans

Editor's Rating – 4.9*
Food processor, blender, and coffee grinder in one.
Powerful motor and various sizes of jars for grinding batches of beans or single cups.
Large capacity single-serve cups with sip lids to make your coffee to go!
Ninja kitchen systems are powerful blenders capable of handling almost anything you throw at them. Coffee beans too. Where other models like the Blendtec go with higher horsepower in the motor to increase the spin speed with a blunt blade, Ninja has an emphasis on sharpness.
The motors don't need to be AS robust, because of the ultra-sharp and stacked stainless steel blade system that's unique to all Ninja Kitchen Systems. The 1,400 watt motor in the BN801 ensures that even light roast beans can be ground with ease.
All that's left for you to do is decide how large a batch of coffee you want to grind. The Ninja BN801 comes with a 72 oz pitcher, a 64 oz food processor bowl, and two sets of 24 oz single-serve cups capable of grinding a cup of beans at a time. Each container is made with TritanTM plastic, which is a tough, impact-resistant plastic that's BPA-free.
Check the price of Ninja BN801
Related Posts:
Best Countertop Blender: Vitamix 5200

Editor's Rating – 4.8*
Self-cleaning.
Adjustable speed dial.
7-year warranty.
The Vitamix 5200 is a well-rounded blender suited to everyday use. What this has going for it that no other has is the aircraft-grade stainless steel blade. These will blend and grind for years without suffering from wear and tear.
An additional plus for such a versatile kitchen appliance is the self-cleaning functionality. Cleaning the Vitamix 5200 is as simple as adding soap and water and turning it on for a minute.
One caveat is that you REALLY do need to use the dry grains container to grind beans. If you try to grind beans with the wet container, the beans will be thrown away from the blades. The dry-grind container has a different design so that the beans are pulled by a vacuum towards the blade.
There is a variable speed dial and pulse setting so you can get the grind you want with ease, such as a fine grind for an espresso or a courser grind for a cold brew coffee.
What's more, is that Vitamix 5200 is still available at some retailers with a 7-year warranty on the motor and blades. Newer models such as the Vitamix E310 have a shorter warranty period.
Check the price of Vitamix 5200
Related Post: Vitamix For Coffee Grinding

Editor's Rating – 4.6*
Safer cleaning as the blade is blunt.
Cold forged stainless steel blade that's 80% thicker than stainless steel blades.
A 3-peak horsepower motor delivers plenty of grinding power!
Blendtec has a reputation for making high-end blenders and they cater to domestic and commercial kitchens. The Total Classic Original Blender is for the residential market, but it is powered with the same commercial-grade 3-peak horsepower motor delivering up to 1,560 watts of power in use.
Like all Blendtec blenders, you get the patented single-blade design that's intentionally blunt! Yup! You don't need to worry about sharpening blades for your blender to work with these as the food processing capabilities are from the motor itself that spins at speeds up to 300mph. At speeds that high, the blades don't need to be sharp.
The blade is also made of cold-forged hardened steel that's 80% thicker than other blender blades and 10X STRONGER too! That's impressive.
For grinding beans, there are ten speeds you can set with the push of a button. Each cycle can run up to 50-seconds, which is plenty for the toughest of ingredients. Most beans will only require pulsing at a medium speed for only ten seconds at a time.
That said, in a how-to from the Blendtec team, they tell you to use speed 5 for 20-to-30 seconds when grinding beans. For the light roast beans that are denser, the higher motor power and the ability to increase the speed will mean you'll be able to grind any type of bean in the Blendtec Total Classic.
The Blendtec Total Classic is available with different size jars.
The FourSide jar is 30 oz for a serving capacity of 24 oz.
The WildSide jar is 90 oz for a serving capacity of 36 oz.
The Twister jar is 37 oz with a serving capacity of 16 oz.
All are made of BPA-free TritanTM copolyester that is scratch-resistant.
Check the price of Blendtec Total Classic Original Blender

Editor's Rating – 4.4*
Easy to store.
15-speed settings.
Extremely versatile.
Rarely do you find an immersion blender capable of grinding beans? Yet, here we are with one that CAN!
The reason the Breville Control Grip can handle tougher tasks is that the blade system has been redesigned with curved ribs. In action, the ribbed design creates turbulence and that pulls the ingredients towards the blade.
For grinding beans in a blender, that is the action you want because, without the vacuum, it's more likely you'll need to use a sieve to separate the finer powder granules from the larger beans that didn't come into contact with the blades.
The Breville BSB510XL has a smaller 280-watt motor, 15-speed settings and it comes with a few attachments, each designed for tackling different chores in the kitchen. Use it as a
stick blender, a soup prepper, chopper, smoothie maker, to puree baby food, or grind your coffee beans using the oval-shaped stainless steel base blade
.
For grinding, the oval design of the blade creates more turbulence causing ingredients to fold onto the blades rather than throwing them up the jar causing inconsistencies, which is a problem most blenders have for grinding beans. The increased turbulence helps reduce this, resulting in a finer and more consistent grind.
It won't be on par with a burr grinder, but it WILL be more consistent than the Magic Bullet blender that uses a flat blade for grinding beans.
A neat design feature of the Breville BSB510XL is the trigger handle. It works like a gun. Put the beans in the jar, the jar into the chopping bowl and insert the blender shaft with the curved blade, set the speed, and pull the trigger. Similar to the Magic Bullet, grind in short bursts so you don't overwork the motor, or heat coffee beans by overworking them too fast.
Check the price of Breville BSB510XL

Editor's Rating – 4.2*
High impact plastic container.
900-watt motor.
Simple to use (push, twist, and blend).
The Nutribullet Pro is the model with the strongest motor at 900-watts. It comes with two blades. One for grinding, the other for juicing. The juicing blade is 4-pronged, and the milling blade is 2-pronged. Use the milling blade for grinding beans.
Grinding beans into a coarse or fine powder is done by attaching the container to the housing unit then simply pressing down. Each press triggers the pulse action. The motor can pulse for up to 15-seconds at a time, but it's unlikely you'll need to operate it for THAT long.
Unlike the Breville BSB510XL that's designed to pull ingredients toward the blade, the Nutribullet won't. Larger beans will gather at the top while the finer particles settle at the bottom.
This is a frustration most blenders have with tougher beans but as the container is easy to remove from the housing unit, you simply give it a twist to release it, shake it, replace and press to pulse again, repeating the process until you have the consistency of grains you like. Course or fine, the Nutribullet WILL manage it. How long you need to be grinding with it depends on how fine a powder you're grinding your beans down to.
The compact size of the Nutribullet makes it ideal for smaller kitchens that lack the countertop space for a full-size blender or food processor.
The Nutribullet Pro is a compact-sized blender that comes with a couple of blade attachments. One is a cross blade, the other a flat blade. The flat blade is the one that's capable of grinding coffee beans. BUT! It's really only going to be with the softer dark roast beans. For cups, you get two. A 32 oz and a 24 oz single-serve cup. There's no larger pitcher for grinding batches.
The motor on the Nutribullet Pro is 900-watts, which is sufficient to give you short powerful bursts but definitely don't push it beyond 10-seconds, especially on the tougher light-roast coffee beans as that's likely to be too tough for the motor to handle. Always remember to use the right blade (flat blade) when you're grinding with any Magic Bullet blender.
Check the price of Nutribullet Pro
Blender FAQ
How To Choose The Best Type Of Blender For Your Kitchen?
The type of blender that's best for your kitchen depends on the OTHER uses you have for it. An immersion blender is designed to be handheld, so it's lightweight and therefore ideal for mixing sauces, making scrambled eggs, dips, whipped cream, and pureeing baby food.
Rather than relying solely on the food bowls that come with food processors and some blenders, the Breville BSB510XL (which is an immersion blender) has a rubber base so you can mix ingredients in ANY pot without worrying about scratching the base.
Smaller compact blenders like the Nutribullet Pro are best for making smoothies and can be used for grinding spices and coffee beans due to the toughened blades.
Larger blenders like the Blendtec, Vitamix, and the Ninja BN801 come with more attachments letting you tackle more chores in the kitchen. These can be considered as 3-in-1 appliances as you can use them as a grinder, food processor, and blender.
The more food prep you do in the kitchen, the more attachments you'll be better with. If you only want to grind beans and make drinks, small and compact will save you countertop space and still get the job done.
Related Post: How To Pick The Right Blender
What's The Best Way To Grind Beans In A Blender?
When grinding beans in a blender, short bursts on a medium speed works best. The denser the bean, the harder it will be on the motor to grind them down. If you're grinding beans down to a fine powder to use for, say, an espresso, you'll likely need to pulse the beans a few times at a medium speed.
Depending on the model, some will need removed and shaken to get the beans closer to the blade.
Some blenders like the Breville immersion blender are designed to create a vacuum inside the mixing bowl to pull the beans towards the blade. Those will grind more evenly than a Nutribullet blender that will need manually shaken to get the larger beans from the top to the base where they can be ground down further.
Regardless of what type of blender you use, choose a medium speed setting and only pulse for around 10-seconds at a time to avoid overheating coffee beans. The hotter the beans get, the more flavor they lose.
Related Post: Can You Grind Coffee In A Blender?
What Prerequisites Does A Blender Need To Grind Beans?
1. A glass or toughened plastic container.
General plastic containers are no good at grinding dense beans. Well, they MAY be, but you're likely to find them easily scratched. Before too long, it'll be more difficult to see through the plastic due to scratching and dulling.
Glass and toughened plastic are better at coping with hard beans being thrown around inside the container. They're designed to be scratch-resistant.
2. A powerful motor
The size of the motor plays a role in how capable it will be with the ingredients you put in it. That being said, even those with smaller motors can sometimes handle grinding beans, depending on the type of blades used.
It's important to remember when you're grinding or blending tough foods with a blender that has a small motor to work in short increments of around 10 to 15 seconds at a time.
For coffee beans, you want to be around that time anyway, but the same goes for grinding nuts to make nut butter. Go easy on the power to avoid overworking the motor.
3. Sharp blades
The sharper the blades are, the easier they grind through most ingredients. The exception to that rule is Blendtec blenders as the blades on those are designed with tougher steel and they're blunt deliberately so that ingredients are ground using a high spin speed.
Every other blender relies on sharp blades and speed to grind ingredients and process other types of food.
Final Verdict
When you consider the prerequisites for a blender that's capable of grinding beans, the Ninja BN801 ticks all the boxes. It has a 1,400-watt motor, and the Ninja stacked blade system. The blender comes with 2 x 32 oz single-serve cups, a 64 oz food processor bowl, and a 72 oz pitcher. For grinding beans, you can use the single-serve cups, or use the food processor bowl if you want to grind beans in larger batches.
For grinding a cup at a time, the Nutribullet Pro and the Breville BSB510XL will manage it, but given the smaller size motors in these, they won't be great with tougher foods on a regular basis.
Larger blenders like the Vitamix 5200 and the Blendtec Total Classic Original are designed to tackle more tasks, therefore, those are better all-rounder countertop blenders that can grind, blend, and process far more foods than smaller kitchen appliances.