Buying stuff is hard. It's not just the price. It's that single digit in the model difference. The Ninja BL770 Vs BL780. Surely it's just a case of finding out if the new release is really THAT much better than the last one. No?
Turns out, the choice you make could be the difference between keeping it, loving it, or being ABSOLUTELY RAGING MAD, and sending it right back. Stick around and let's clear up the confusion. Together. Starting with what each is.
Put a name to the model numbers. The BL780 is the Ninja® SUPRA Kitchen System®. Consider it the little cousin of the BL770, boastingly named by Shark as the Ninja® MEGA Kitchen System®.
Logically, you'd think the BL780 would be an upgrade on the BL770. It's not. Don't buy features you won't use and don't miss out on the ones that could mean spending less time prepping and cooking, and more time EATING GOOD STUFF!

Ninja BL770 Vs BL780 – Features
Ninja BL770
Ninja BL780

The Ultimate Powerhouse of a blender, capable of slicing and dicing frozen fruit and veg, and crushing ice too

Smaller 1200 watt motor performs as strong as BL770, but you will hear it's working much harder to get the same results

Pulverizing feature makes it better for juicing (still with a blender though)

Compact, powerful, and versatile enough to be used as a puree blender for baby food daily

Superior Complete Juicing TechnologyTM liquidizes solid vegetables, and you don't need to use a blender tamper to force-feed the veg into the blades either. The powerful suction in the chamber pulls the veg toward the blades with no intervention needed. Powerful stuff!

Sharp enough blades to make peanut butter with raw peanuts and NO oil.
Neat!
Ninja BL770 Review
Ninja BL770 Mega Kitchen System
and Blender
72 ounce total crushing pitcher

Eight cup food processor bowl

Two 16 ounce Nutri Ninja cups with to go lids

Dishwasher safe and BPA free parts

Includes: 1500-Watt Motor Base, 72-Oz. Total Crushing Pitcher, 8 Cup Food Processor Bowl, Dough Blade, (2) 16-Oz. Nutri Ninja Cups with To-Go-Lids
Ninja Mega Kitchen System Tech Specs
Main body color: Black
Assembled size: 9.5†x 8.25†x 17.75†(this is a MASSIVELY tall blender for a countertop appliance. Most kitchens only have an 18†clearance from counter to the cabinet, so measure your space first).
Capacity: 72 oz pitcher + 64 oz food processor bowl + 2 x 16 oz single-serve cups
Number of speed settings: 5
Assembled weight: 9.2 lbs
Summary
The countertop size of the Ninja BL770 is only slightly larger than the BL780, despite housing a more powerful motor. The height is the measurement you ought to check first because if it isn't going to fit on your worktops, you may want (or need) to go with the smaller Ninja BL780, if only so it fits on your counter instead of on top of a cupboard, or worse… the back of one!
Given the 1500 watt power, it's good to see Shark have gone with easy release suction cup feet on each corner of the unit. You only need to apply a slight bit of pressure to the top of the motor base to secure the unit to your counter, preventing it from moving or tipping when you turn it on.
When you're done using it, remove the bowl, slide a finger under it on either side, a little flick upwards to release the airlock, and you're done.
As a food processor and blender in one, it's fewer appliances on your worktops, so despite needing that little extra space, it does a lot more than a single purpose appliance, such as a mixer, blender, juicer, and food processor. It will end up saving you space.
That being said, there's a lot of parts so you won't solve all your kitchen storage problems. A magnetic hanging strip at the back of a kitchen cabinet (top shelf) is a neat way to store blades out the way. That works with food processors that use discs. This doesn't!
It'll be best to have a separate storage container to keep the stacked blades in. You do not want these in your kitchen bits drawers. They're far too sharp.
As a combi appliance with such a powerful motor, and a magnitude of chores that can be done fast and effortlessly, the Ninja BL770 definitely lives up to its name as the Ninja Mega Kitchen System.
Get Further Details And Check Latest Price On Amazon
Ninja BL780 Review
Ninja Tech Specs
Main body color: Black and silver
Assembled size: 8.0†x 7.5†x 17.0â€
Capacity: 72 oz pitcher + 64 oz food processor bowl + 2 x 16 oz single-serve cup
Number of speed settings: 3
Assembled Weight: 8.5 lbs
Summary
The Ninja BL780 is a handy helper in the busy kitchen. It's marginally more compact than the Ninja BL770, uses a less powerful motor, and that's because it's designed for a different purpose.
This is designed for liquefying vegetables and blasting through anything that's frozen, including turning ice cubes into snow. The sort you'd use to make snow cones with.
It is NOT designed to do anything with hot liquids or hot food. Cold food prep only is what it does, and very good at it too.
Possibly too good, which is why it's nice to see they've included a responsive pulse button. If you were to turn it on at any of the constant settings with either the 4 or 6-blade assembly with any vegetable in it, it'd turn it to mush in seconds…
No Joke! It can shave ice into a fine mist of snow in 10-seconds flat.
The same stacked blade system is included in the Ninja BL780 and it will do the same but with fewer speed settings, so you'll have less control over the process.
The food processor is a good sized 64 oz. This can be used with the dough paddle for various doughs, or with cutting blades to make salad dressings, dips, sauces, and spices.
Two Nutri Ninja Blade Assembly cups are also included and those are what to use for mincing onion, garlic, and herbs. The cups are the 16 oz cups and there are a couple of sip and seal lids included, so you can make single-serve smoothies to go with this model, too.
Get Further Details And Check Latest Price On Amazon
Similarities Between Ninja BL780 And BL770
Starting with something that's likely agreeable with both models… Neither Ninja is a juicer. Both are blenders and although described as a combi appliance, neither is as capable as a single-purpose food processor.
The 72 oz pitcher is for blending. Swap the jug for the 64 oz bowl and it becomes a full-size capacity food processor using the same blade system to prep veg for meals. Both lack cutting discs, so there's less control for thicker dicing of vegetables.
Equally, both Ninja are capable of juicing but they won't extract the pulp. If you're after a combi blender/food processor, both models are capable machines and have powerful enough motors to actually make a drinkable smoothie without the crunchy bits.
Differences Between Ninja Supra Kitchen System And Ninja Mega Kitchen System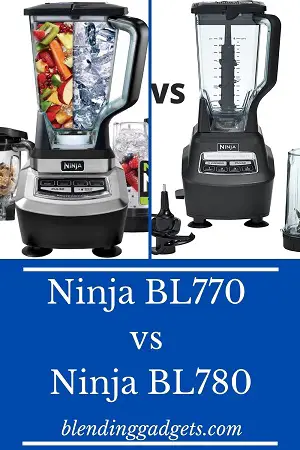 A side-by-side comparison of the Ninja BL770 Vs Ninja BL780 reveals very few differences, but the subtle ones that are there, well, they tend to lean in favor of the Ninja BL770.
More powerful motor? Check.
More attachments? No.
More settings? Yes! And that's the clincher right there.
Both models come with the same accessories but it's the BL770 that has a low consistent speed setting that's better suited to use with the dough paddle. Try to knead any dough with the BL780, and you'd likely be pressing the pulse button on and off, while not getting the same level of consistent slow kneading speeds you'd get with the BL770 on the low/dough setting.
Other Differences Between the Two Kitchen Ninjas…
1. Power
The glaringly obvious difference is power. The BL770 is packing an extra 300 watts. That may seem insignificant, but, the real difference is the noise. The BL780 runs noisier. Both are loud though. The BL770 less so.
More power gets a faster spin speed on the highest setting, and that's really only going to be used when crushing ice. If you plan to crush a lot of ice, like making snow cones during a kid's summer garden party, or making shaved ice cocktails when guests are over, the faster spin from the BL770 translates to more crushing in less time, and with less strain on the motor.
2. Speed Settings
More settings mean more uses. The Ninja BL770 has 4 dedicated speed settings, plus the pulse for manual speed. The Ninja BL780 has 3 consistent speeds, plus pulse mode.
3. Size
Size is where it could swing in favor of the BL780, depending on the space you have available.
Could it really come down to a 3/4†height difference?
Yes!
Both of these machines are tall, but the Ninja BL770 is WAY TOO CLOSE to 18â€, and since that's the standard distance between a countertop to the base of a cabinet, if your kitchen has different heights, that 1/4†could be the difference between it sliding under a cabinet, or not having the worktop space to put it in your kitchen. The BL780 stands at 17†tall.
Final Verdict – Ninja BL780 Vs BL770
When compared, the Ninja BL770 is the better option for doing more with it, and that's not only because it packs more power. It has more settings, and that matters for the food processor aspect.
As a blender, both Ninja are great for crushing anything frozen. It's why they both have the stacked blade system. Both also have the same size mixing bowl and all the same accessories.
For mixing cake batters and cookie doughs though, the food processor will do better on the slowest setting. The low/dough speed on the BL770.
If you need the speed JUST for crushing frozen stuff for ice-cold smoothies, the Ninja BL780 will do just fine too. It'll make more noise, but it'll get the job done. Maybe not for as long before the motor starts playing up, depending on how hard you work it, but it'll reach a fast enough speed, crush the same stuff, and turn veg to liquid with ease.
Related Posts: