This post might contain affiliate links. I get paid a small commission (at no extra cost for you) if any sales are made through it but I only recommend products that I truly believe in! Please check my disclosure policy to learn more.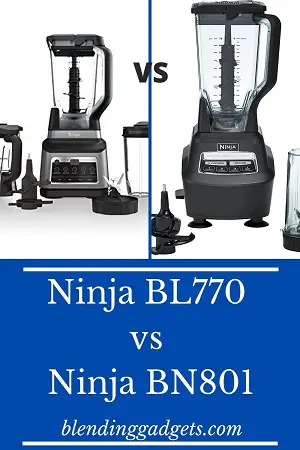 When you want a powerful blender with the versatility of a food processor in one, Ninja Kitchen is up there with the best. Question is, which is better… The Ninja BL770 vs BN801. It's a narrow choice! One that's made FAR easier when you know what each is better at doing.
They both have their place on someone's kitchen counter. The REAL difference isn't about WHAT they can do. It's more about HOW they get the job done!
To give these blenders their proper name, the BL770 is the Ninja® MEGA Kitchen System®, and the BN801 is the Ninja® Professional Plus Kitchen System with Auto-iQ® technology. The BL770 is the tried and tested model that's been around since 2012, and it is the model with the most powerful motor. The BN801 is an updated version with only the power slightly reduced, but it packs FAR MORE features than its predecessor. Will you use them though?
Ninja BL770 Vs BN801 – Features
Ninja BL770
Ninja BL801

Older model that's proven to be reliable since 2012

Digital timer display allows for more precise control over textures

Lower sized 16 oz cups make it easier to make healthy portions of smoothies, or protein shakes

2. Single-serve cups are 50% larger, making them ideal if you prefer a larger smoothie, milkshake, or protein shake to go. (or bigger portions of dips and sauces)

The powerful motor makes it ideal for blending frozen fruits and vegetables frequently

3. More auto programs let you turn it on and walk away, leaving it to do its thing, saving you time.
Tech Specs
Main body color: Black
Assembled size: 9.5" x 8.25" x 17.75".
Capacity: 72 oz XL pitcher + 64 oz food processor bowl + 2 x 16 oz single-serve cups
Speed settings: 5
Assembled weight: 9.2 lbs
Summary
The Ninja BL770 has been a handy helper in kitchens since 2012. This is the tried and the tested model housing a 1,500-watt motor, which is plenty of power for crushing ice. When a combi blender can do that, you know it's going to slice, dice, and chop anything with ease. It has the power and the accessories included to chop anything, but for chopping, you don't have the preset "chop" program that the BN801 has.
If you're fine standing with your finger on the pulse button or using the manual speeds, the BL770 has the same attachments but less tech.
Power is a core selling point of the BL770, pushing toward the larger end of the market, but the new model is only 100-watts less so there won't be a noticeable difference between the two.
The 1,500-watt motor powering this model makes it the better option if you plan to blend frozen fruits and veg on the regular. The tougher the task, the more power it needs. It's the power in this model that makes it a reliable choice for frequent users.
What the Ninja Mega System REALLY has is a blender/food processor that's been on the market for 8-years and proven to be reliable.
Depending on what you're using it for, it may be the healthier choice. According to Shape.com, a healthy smoothie portion is 8 ounces, and a standard-sized portion is 22 oz. If you plan to make protein shakes, most protein powders claim to mix well with 8 oz of water, so a single-serve cup to go in this model would be half-filled with water, press pulse to mix it up and you are SET.
The pitcher is an XL 72 oz capacity so even if you plan on making smoothies for a family of 4 or more, it'll make that no problem. Just not automatically.
Tech Specs
Main body color: Black and stainless steel
Assembled size: 17.6″ x 7.5″ x 9.6″
Capacity: 64 oz. food Processor Bowl, 72 oz. pitcher, and 2 x 24 oz. single-serve cups
Number of speed settings: 4 manual (low, medium, high, and manual pulse,) plus 5 auto programs (smoothie, ice crush, extract, chop, and dough)
Assembled Weight: 9.3 lbs
Summary
The Ninja BN801 does a lot more with a teeny bit less power. It's a better choice if you want hands-off blending as there are more pre-set programs ready to go at the touch of a button.
Much of the simple tasks you throw at it can be done in under a minute, such as mixing a couple of pounds of dough for a pizza base or some cookies. For tougher food processing chores like making nut butter, it can do that in roughly 4-minutes.
The handy thing about using the auto function is you can turn it on and walk away. Use your time to do other chores or leave the kitchen and go somewhere quieter.
No matter which program you use, it will be noisy, but that's the same with every blender. Noise is to be expected. Auto at least gives you the option to leave it be, instead of standing over it until you're done prepping your foods or making a smoothie.
A neat upgrade is a digital timer as it gives you more control over the blending process. Where this comes in handy is for your low setting when you're mixing flours into the dough for bread, cookies, or a pizza base. Delicate ingredients usually call for more precision in the processing.
To get the flour, there are plenty of accessories including blades capable of grinding grains. You can even use it to grind coffee beans.
The one notable difference is the single-serve cups that come with the Ninja BN801. They are 24 oz. capacity. The BL770 has 16 oz. capacity single-serve cups. You can use the cups for smoothies to go, or you can make BIGGER portions of salsa dips and sauces.
If you're one for experimenting with different recipes, trying different times to vary textures, or just prefer a larger serving than 16 oz, the Ninja BN801 could be a better fit.
Ninja BL770 Vs BN801 – Key Differences
Out the box, all the attachments are similar with the exception of the single-serve cups. The BL770 has 2 x 16 oz single-serve cups, whereas the BN801 has 2 x 24 oz cups. If you find yourself hosting parties, or making sauces and dips for a large family, the bigger serve-cups on the BN801 would let you make MORE in LESS time than it'd take with the older model. Both include the sip lids, so if you want a larger smoothie to go, the BN801 does that.
The preset programs and Auto IQ is where the key differences are. The BL770 has three programs.
Dough
Blend
Crush
The BN801 has five
Smoothie
Ice Crush
Extract
Chop
Dough
Both models have 4 manual speeds of low, medium, high, and pulse.
Auto IQ® is on the updated Ninja BN801. This is handy for those new to blenders and prefers to have some safety features there to make sure you use the right attachments with the right programs.
As an example, the pitcher uses a 6-blade attachment, and the food processor bowl, a smaller 4-blade attachment. Auto IQ® recognizes the attachments and only illuminates the programs you can use. As for ice crushing, you need to use a larger stacked blade in the pitcher, not the 64 oz bowl with a 4-blade attachment. The new model won't give you the option to try and crush the ice with a blade that's not designed for it. That's handy if you have teens in the house who decide they want to make an iced drink on the fly, without changing the bowl and attachments.
Both blenders are countertop models and have different looks. The BN801 has a slicker black with stainless steel finish giving it a more modern appeal. The BL770 has an all-black base and since the bases on both are high-density plastic, rather than premium metal, it lacks the modern design appeal in today's kitchens. Overall, the new model looks more appealing and has more functionality.
Final Verdict – Ninja BL770 vs BN801
Both Ninja Kitchen Systems are great blenders and food processors. The stacked blade system and powerful motors on both models make light work of chopping up the toughest of vegetables, frozen fruit, crushing ice for an icy-cold smoothie, or making nut butter.
Where the real differences lie are in the functionality. The BN801 is the better option for HANDS-OFF blending. The BL770 has a few preset programs, but it lacks the ice crushing setting and the smoothie setting. For smoothies, the single-serve cups are a larger 24 oz capacity bringing it closer to a regular-sized smoothie you'd buy from a shop.
As these are both countertop kitchen appliances, looks matter! The new model is an improvement with its slick stainless steel look combined with black so it will look better in any modern kitchen. For aesthetics and better functionality, the BN801 is the better option. If you aren't fussed about the design or automating some of the chores you'll be using the machine for, the BL770 will do the same with more button-pushing and watching over it.
Related Posts