Blenders are a common necessity in most kitchens. Whether you're looking to make a morning smoothie, blend up some soup for lunch, or create a frozen drink for happy hour, a blender is a key appliance to have on hand. But with all of the different options available on the market today, it can be tough to determine which one is right for your needs.
As technology has advanced, blenders have become more and more powerful and versatile, with features like multiple speed settings, pulse actions and even automatic shut-offs. If you're still using your old blender to whip up some smoothies or some frappes, it's time for an upgrade.
Rather than just investing in the first blender that catches your eye or one that a friend has raved about, consider these 7 tips to find the best blender for your needs.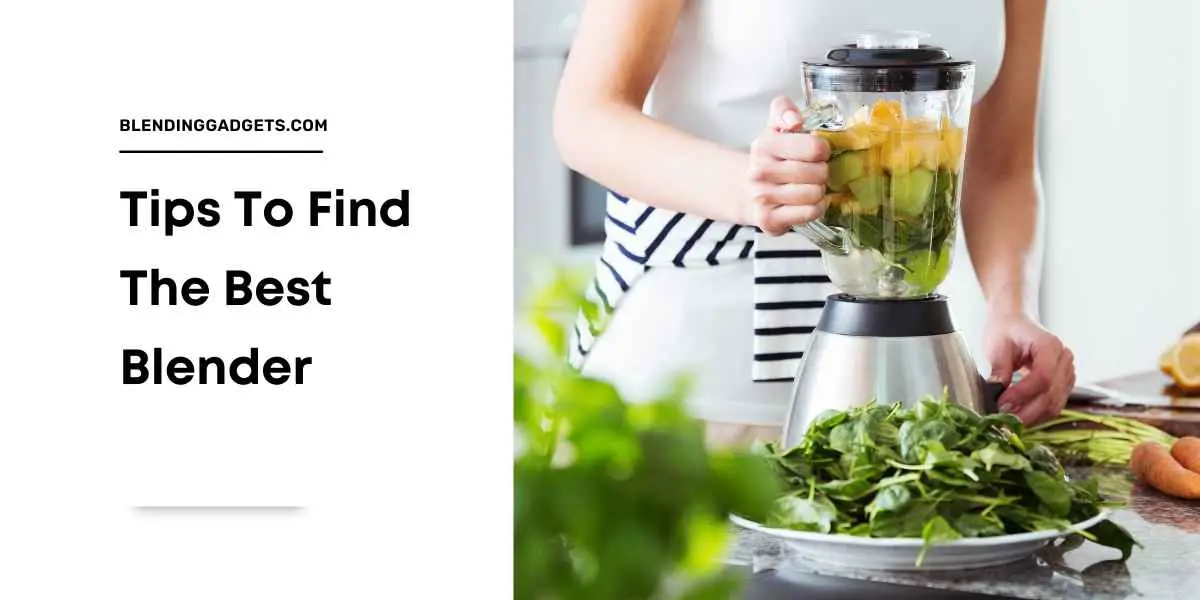 7 Tips To Find The Best Blender For Your Needs
1. Decide What You'll Be Using Your Blender For Most Often
Are you looking for a multipurpose appliance that can handle everything from smoothies to dips to salsas? Or are you mainly interested in a blender for making smoothies and frozen drinks? If you're looking for a general-purpose blender, be sure to look for one that can handle a range of tasks.
If you're looking for something just to make smoothies, opt for an appliance with specialized blending functions, such as one that is designed specifically for green smoothies or another that specializes in making frozen drinks.
2. Determine How Much Counter Space You Have Available And What Kind Of Design You Prefer
Blenders come in a variety of shapes and sizes, with some taking up more counter space than others. If you're short on kitchen real estate, look for a smaller blender that won't take up too much room on your counters.
In addition, consider the design of the blender. Some have sleek and modern designs, while others feature more traditional and classic designs. Always go for the design that will best fit in with the overall aesthetic of your kitchen.
3. Think About How Much You Want To Spend On A Blender
When it comes to appliances, you often get what you pay for; however, there are some budget-friendly options that still offer high performance and reliability. Be sure to set a budget that reflects the amount of money that you're willing to spend on a blender.
Always go for quality over quantity, but don't break the bank for a blender that you'll only use occasionally.
4. Consider The Wattage Of The Blender
The higher the wattage, the more powerful the blender will be. If you're looking for a blender that can handle tough tasks, like blending frozen fruits and vegetables, opt for one with a higher wattage.
If you're just looking for something to make smoothies with, a lower wattage blender will do the trick. You don't want to blow your budget on a blender that's too powerful for your needs.
5. Check Out The Reviews
Before you buy any appliance, it's always a good idea to read the reviews. Doing so can help you get an idea of what others have liked and disliked about a particular blender. It can also give you an idea of the features that seem to work well and those that don't.
There are many online review platforms available, such as Amazon that allows users to post their thoughts and ratings on products. So this is something definitely worth checking out before you make any purchases.
6. Look For A Blender With Multiple Speeds And Settings
Don't settle for just one setting, unless that's exactly what you desire. Modern blenders come equipped with multiple speed options, allowing users to choose the right combination of settings to get the results they want for their specific task. This is definitely a feature you'll want to look for if you're looking for a versatile blender.
There are many types of blenders available in the market these days. Always go for the one with multiple features. It is also important to check the blade system as well.
If you're the kind of person who enjoys hosting parties, beer delivery toronto and a multipurpose blender are your best pals. Whether it's a shandy or a margarita, there are blenders that can handle it all.
7. Check For Warranties And Return Policies
Before you make your purchase, be sure to look into the warranty and return policy of any blender that you're considering buying – even if it's just a general overview of what you should expect from each type of warranty or policy.
Doing so can help you feel confident that you're covered in case something goes wrong with your blender or if you decide that it's not the right one for your needs. This is something that can save you a lot of hassle and frustration in the long run.
Related Post: How Does A Blender Work
Tips To Find The Best Blender – Conclusion
Looking for a quality blender can be daunting. There are many questions you should ask yourself when purchasing a blender. With these seven tips to find the best blender in mind, you're sure to find the perfect one for your needs.
Be sure to consider how much you want to spend, how powerful you need it to be, and the specific tasks you'll be using it for. Pay attention to reviews and look for a blender with multiple speeds and settings. And don't forget to check the warranty and return policy before making your purchase!
So, what are you waiting for? Start browsing and find the best blender for you.