Immersion blenders are also known as hand blenders and are often used to puree small quantities of food. Thanks to their compact size, immersion blenders are typically a better choice for smaller kitchens with insufficient counter space.
They differ from regular blenders that take up more counter space but have the capacity to blend more food and feature more functionalities.
The world of blenders is an interesting market to explore – given that there are a variety of selections to choose from. As such, it can be difficult for first-time buyers to know what is the difference between a blender and an immersion blender.
So, how do these blenders differ from one another? Let's find out.
Understanding The Differences Between A Blender And An immersion Blender
To best understand the difference between a blender and an immersion blender, we should first look at their functionalities individually. Below are some of the pros and cons to both of these blenders in question that will best help you understand the differences between the two blenders.
Pros And Cons Of The Blender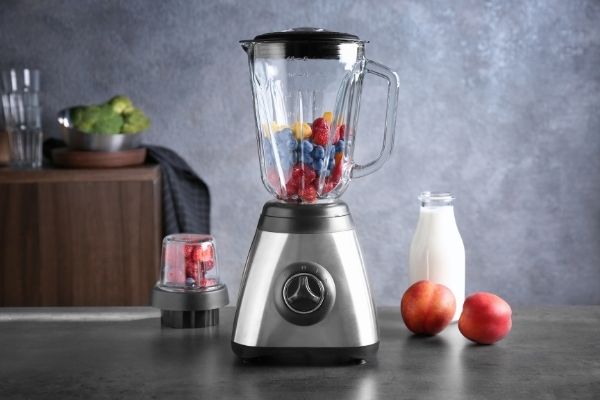 Also called the stand blender, one of the top advantages of a blender is its multi functionalities. Often featuring a strong motor and sharp blades to cut through tough ingredients, the blender is used for various kitchen duties such as blending smoothies with ice and frozen ingredients and making dips for parties and other meals.
Thanks to its large blender jug, the stand blender is an essential kitchen appliance if you have large families. The strong motors and sharp blades of stand blenders also makes it the ideal appliance to puree soups into a creamier consistency, although you'll have to prepare it in small batches to avoid splashing messes.
Unfortunately, not every household can afford a stand blender. This is because good quality stand blenders regularly begin at $100, with popular brands such as Vitamix and Blendtec helming the selections. While you may always purchase cheaper blender brands from the market, not all blenders are made with the same quality.
Weak motor speeds and dull blades are common complaints about cheap blenders, making them an unworthy investment. They could also ruin your user experience with stand blenders and make inconsistent food at subpar qualities.
Stand blenders are also not suitable for homes with limited counter space, as they are often bulky and heavy to move around. With that said, you'll have to be prepared to leave the stand blender on the kitchen counter permanently, making it an unsightly addition if you're going for a certain kitchen aesthetic.
Finally, unless you're willing to purchase the well-known Vitamix Blending Station Advance – or also known as The Quiet One, then you'll have to be prepared to deal with a noisy blender. Do note that while the Vitamix The Quiet One can be costly to own, it is a highly recommended blender used even by the multinational coffee chain Starbucks.
Related Post: Why Is Vitamix Blender So Expensive?
Pros And Cons Of An Immersion Blender

On the flip side, it is easier to use an immersion blender. It is also known as the hand blender, and true to its name, the immersion blender is typically used as a handheld kitchen appliance.
The use of immersion blenders is usually limited to smaller kitchen duties such as pureeing soups or blending ingredients in a pot. Immersion blenders are also great helpers in the kitchen if you're looking to break down foods into baby-safe meals. Other kitchen tasks include beating egg whites or making smoothies without ice.
One of the biggest advantages of the immersion blender is how convenient it is to use daily. With selections such as wired and cordless models in the market, you can easily purchase a model that suits your kitchen needs. Immersion blenders are also much more affordable compared to regular blenders, making them an appliance that's suitable for every household.
If you're strapped for counter space in your kitchen, the immersion blender is also the better choice as you can easily keep it away after use. This ensures your kitchen's aesthetics are never overwhelmed by the various kitchen appliances, which can be pleasing especially when guests drop by.
Despite these advantages, the immersion blender has its own set of disadvantages as well. One of the most noticeable cons is the drastically lower motor strength in immersion blenders. This means that the blender is incapable of heavy-duty tasks like breaking down the ice or frozen fruits and vegetables.
Immersion blenders can also be messy to use if you're unfamiliar with how to use them. This is because immersion blenders don't come with a jug for blending. Instead, you'll be expected to lower the blender into your pots or bowls – hence the naming of the blender.
As a result, it's easier for soups and liquids to splatter around your kitchen if you are not careful with the blender. This makes the immersion blender unsuitable for use with inexperienced cooks, although it can be a good entry-level appliance if you don't mind cleaning up after.
Which Is The Better Kitchen Appliance: Blender Or Immersion Blender?

Depending on your use for the blender or immersion blender, you may wonder which is the better kitchen appliance to own overall. However, as much as there is a difference in use between the two, the best answer to this question lies in what you're looking to achieve with the blenders.
With that said, if you're looking to prepare food in large batches and achieve a creamy consistency in soups and purees, then a stand blender may be a better selection for you. Although you may have to prepare hot soups in multiple rounds to avoid splatters, the high-powered motor in stand blenders often guarantees you consistent soups and dips.
Stand blenders can also handle frozen foods better, including frozen fruits and vegetables and ice for smoothies. Unless you have a small kitchen space, stand blenders would make a great addition to any kitchen given its multipurpose use.
On the flip side, immersion blenders can offer you great convenience at a fraction of a price. It is also easier to clean after every use, as you don't have to disassemble the parts of the blender to wash in case of splattering accidents.
Small kitchens may often benefit from the use of immersion blenders, but you won't achieve the same smooth and creamy consistency in your soups and purees as you would in stand blenders. If you're aiming to create chunky sauces, then an immersion blender would be a better choice.
Price concerns may also play a big factor in choosing which is the better kitchen appliance for you. While the stand blender can do more in your kitchen, it can be expensive for you to invest in a good unit. When compared to the immersion blender, having a stand blender may often be regarded as a luxury.
Will Immersion Blenders Scratch My Pots And Pans?
Many first-time users of the immersion blender may also worry about the condition of their pots and pans by the end of the day. This is because you'll have to push the immersion blender down to the base of your pot and pan before turning it on to properly blend any soups, purees, and sauces.
Thankfully, modern immersion blenders today often provide scratch-free attachments. This ensures that the base of your pots and pans will be safe from scratches, while still delivering the same quality of blends as an immersion blender should.
Do note that not all immersion blenders offer this scratch-free attachment, so you'll have to check through the unit carefully before investing in one. Great choices such as the Chefman Immersion Blender often offer scratch-free protection, so your pots and pans are safeguarded as you cook up a storm in your kitchen.
Are Immersion Blenders Safe To Use In Hot Soups?
Unlike regular stand blenders, immersion blenders are more convenient to use when you're looking to make hot soups. This is as you can blend soups directly in the pot, without having to transfer the soup into the blender jug.
Despite this, stand blenders are known to create creamier and smoother soups. While it can be a hassle to transfer the ingredients in small batches from the pot to the blender jug, you'll be able to create meals with better consistencies using the stand blender.
You should, however, take caution when using a stand blender with hot soups. This is as the hot soups can create a steaming effect and push off the blender tops. When this happens, your soups may end up splattered across the kitchen, which can be dangerous to you.
Conclusion
In conclusion, deciding whether the blender or immersion blender is better suited to your kitchen could be a tricky thing to deal with. The biggest difference between the two is in the size, price, and multi functionalities in either one.
If you're looking to purchase a stand blender, the Vitamix "The Quiet One†comes highly recommended, while the Chefman Immersion Blender takes the cake for immersion blenders.
Do you have further questions on blenders and immersion blenders? Then be sure to leave a comment below to have your queries answered.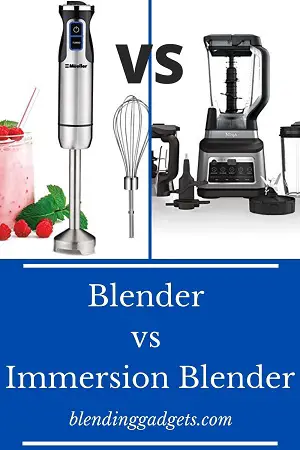 Related Posts