How to pick the right blender for me? What type of blender will fit into my kitchen? What do I need to know before starting my search for a suitable blender?
Having the right information before deciding what blender is best for you is crucial, thanks to the saturated market. If you want to know more about blenders, then you are in the right place.
When you are through this complete buyer's guide, you will know enough to get a blender that suits your needs and lifestyle.
Every functional kitchen needs a great blender. From making puree for a tasty pesto to crushing ice for a refreshing sorbet, the type of blender you choose will determine the quality of your culinary skills. A great blender saves you a substantial amount of time and effort and is vital to making your time in the kitchen enjoyable.
Deciding to invest in a suitable blender is just the first step to getting the perfect blender for you. Choosing which blender to buy can be daunting as there are so many options at your disposal.
Don't fret! We have compiled a complete guide containing all the relevant information you need to make the right decision. Choosing the right blender for you will no longer be overwhelming.
Simply follow through as we explore all you need to know to pick a blender that best suits your needs.
How To Pick The Right Blender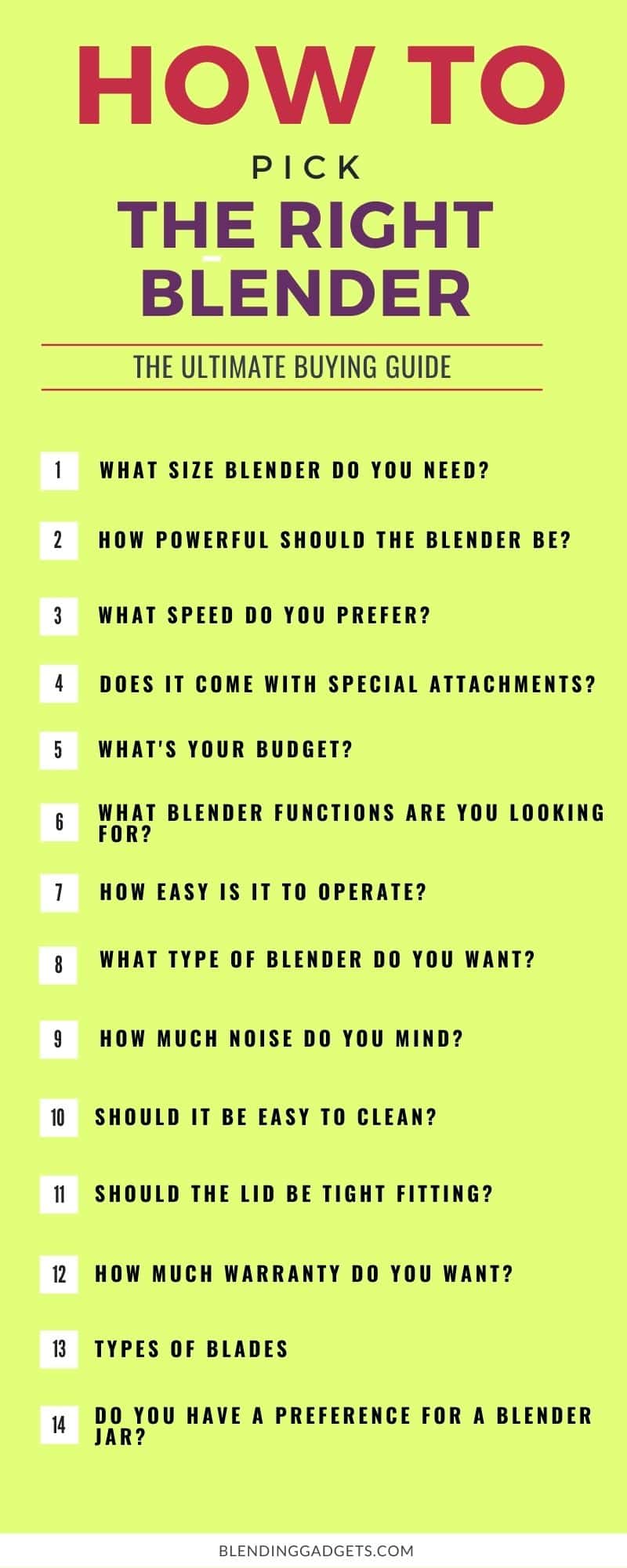 This is the first question most people ask when they decide to get a blender. Your answer, however, will depend on your needs. Are you a chef in training? Or a stay-at-home mom of a big family? Or an aspiring mixologist?
What you need a blender for and your conditions will determine what type of blender will best suit your needs Here are a few things to consider when picking what blender is most suitable to your culinary needs –
1. What Size Blender Do You Need?
The size of the blender you choose will depend on how big your workspace is. Even if you had all the money to purchase your dream blender, having adequate space to place the device will determine how effortless its use will be.
Also, the number of servings you aim to get will determine the size of jar your blender choice should have. Personal blenders only contain enough volume for 1-2 serving, which will be perfect if you aim for solo use.
This is not the case with countertops and high-performance blenders that are better suited if you're blending foods and drinks for more people.
Here is a brief list of the different blender sizes on the market;
Personal blenders: range from 9-20 ounces and will make about 1-2 servings.
Countertop blenders: range from 47-70 ounces and can contain enough for 5-8 people.
High-performance blenders: are the largest, and some can take as much as 145 ounces.
2. How Powerful Should The Blender Be?
The power of any blender is dependent on its wattage and horsepower. You must determine which is best for you by examining the ingredients you aim to blend. If you just want to puree a few veggies once in a while, you can go for a blender with low wattage and horsepower.
On the other hand, if you wish to blend ice and other tough foods, then you should opt for a blender that has a substantial amount of wattage and horsepower. If you try blending tough foods with a low horsepower blender, don't be surprised if its engine gets fried.
3. What Speed Do You Prefer?
It is not every time you will want your ingredients blended into a smooth paste. I personally love my spatchcock chicken marinate to have a coarse texture, and thus I use a lower speed blender.
To have more diversity, you should opt for a blender that has speed control. This way, you can regulate the speed you need.
Here's a list of the speed intensity you need for various foods and drinks;
High Speed: Hot drinks/ chocolate, Grinding of spices, Soups.
Medium Speed: Smoothies, Dips, Sauces, Spreads, Crushing Nuts.
Low Speed: Ice cream, Batter, Puree, Milkshakes, Chop veggies.
High-Low Interval: Smoothies, Soups.
You should also lookout for the manufacturer's recommendation concerning ice before you use it.
4. Does It Come With Special Attachments?
No one hates a great deal that offers a complete package. Some blenders come solo, but others come with added attachments that make their use more convenient and enjoyable.
Some blenders like the Ninja BN801 Professional System Blender goes as far as coming with a food processor as part of the package. This way, you get more kitchen appliances for a lower price than if you bought them individually.
Here are some special attachments to look out for when choosing a blender;
Chopping blade: For veggies and puree.
Dough blade: For dough mixing.
Frother: For mixing milk and various beverages.
Wire beater: For whipping batter and mashing potatoes.
Blender cups with spout lids: For serving and storage.
Spare Blades.
5. What's Your Budget?
Your budget will determine what brand and type of blender you choose. Most people are quick to give up searching for a good blender due to their small budget. This is a problem you will not have after going through this buyer's guide.
Whatever your budget, we have listed devices that are durable and reliable. A great deal, by definition, is getting amazing value for your money.
So you should take your time and compare the prices of various blenders on the market and choose one that is within your means and still doesn't sacrifice the features that'll make it suitable to your needs.
6. What Blender Functions Are You Looking For?
The answer to this question will depend on what you need a blender for. Some blenders come with a simple on and off option, while others have various function options.
If you are particular about your blend's consistency, you must ensure to get a blender that has options for different functions.
The standard settings you should look out for in a blender:
Liquid Option
Stir Option
Puree Option
Chop option
7. How Easy Is It To Operate?
From its control options to cleaning ease, your blender choice should be one that makes your time in the kitchen more effortless. Getting a blender that lacks a straightforward control panel will make it harder to use, and this is more discouraging than you may assume.
Ensure that you also take the time to review the instruction manual that comes with a blender. It was included for a reason, and most of the features that set a blender apart might not be obvious on sight but may be clearly stated in the instruction manual.
8. What Type Of Blender Do You Want?
The type of blender you should buy will depend on how you intend to use it, your working space, and your budget. Some blenders come with the bare minimum functions, while others have the capacity to crush through solid food and dismantle ice.
Don't make the common mistake of assuming that the bigger the blender, the better for you. Sometimes all you need is a simple personal blender, and other times your meals may require a high-performance appliance.
The types of blender available are;
COUNTERTOP BLENDER
Although this kind of blender is widespread, some people still confuse it with a food processor. Unlike the latter, countertop blenders are specially designed to combine and pulverize ingredients not perform various food prep tasks.
Although countertop blenders are multifunctional, they are renowned for their large size and expertise in drink making. These blenders are made mainly for cool liquids, so if you need to blend hot liquids, a better option for you might be an immersion blender.
Countertop blenders have a lid that prevents ingredients from flying about while blending. If contents are hot, this closure may lead to a building up of steam pressure, resulting in an explosion. The trick here is to blend in small pulses and occasionally open the lid to let steam escape.
Uses
Drinks: If you love to make a healthy refreshing smoothie with crushed ice, then a countertop blender is the kitchen companion you need. With this blender, you'll be able to make a variety of nutrient-filled smoothies that your health will thank you for. This blender also does a great job making you a delicious cup of milkshake at home.
So, whether you're in for a frozen margarita or an orange sorbet, your countertop blender will perfectly blend your fresh fruits and veggies as well as crush your ice to snow.
One-Stop-Shop: These blenders will give you the creative freedom to use as you please. Of course, it is crucial for you to check the capacity of the blender type you buy to avoid overworking it.
Purchasing a countertop blender can still be a little confusing as there are so many brands and sizes on the market. That's why we went ahead and compiled a list of three great countertop blenders on the market.
This list's arrangement is in no particular order, and all products are powerful, durable, and highly rated by users.
This powerful blender comes with a 6 blade assembly that is sure to perfectly blend your ice or frozen foods to whatever consistency you desire. With a 72ounce professional jar, you can make enough drink to serve a whole family instead of blending in batches. Its price is reasonable for its capacity, so choosing to buy this kitchen appliance is worth the investment.
2. Hamilton Beach Power Elite Blender
This blender is surprisingly affordable without sacrificing its basic functionality. This countertop blender comes with 12 blending functions and 5 clearly labeled buttons, making it easy to use. Many reviewers of this blender attest to the fact that it looks high-quality for its low price.
So, if you're one who can't resist a great deal, then the Hamilton Beach Power Elite Blender is for you.
This countertop blender comes with smart settings technology and 3 pre-programmed settings. It comes with a glass jar that cleans perfectly without retaining lingering smell, and its wide base of this blender secures stability.
The Oster Pro 1200 countertop blender is optimized to blend both dry and wet ingredients.
IMMERSION BLENDER
This type of blender is relatively common, quite portable, and inexpensive. They come in the form of a stick with a comfy handle on one end and a well-covered blade on the other. Just like the name, you will immerse the blade end into the container with contents you wish to blend and turn on.
One great feature about this kind of blender is how easy they are to clean compared with a traditional blender or food processor. The trick is to immerse your blender into a mixture of warm water and soap, and your blender is clean and ready for a rinse.
Although immersion blenders are portable, easy to handle, and quite versatile, they won't crush your ice as well as a countertop or high-performance blender.
Uses
Soups/ Stews/ Sauces: An immersion blender is best used when preparing soups that need contents blended like roasted acorn squash soup. Instead of turning your hot soup from the pot into a blender, all you need is to hold your immersion blender like a wooden spoon and dip in, allowing it to do its magic. The fact that you can use them in hot mixtures makes them perfect for soup preparations.
Now you can get ready to prepare all your stew and soup recipes without the stressful movement of hot soup between the pot and blender.
Protein shakes: Nothing gives you a smooth protein shake like an immersion blender. This way, you don't have to prepare a large amount. You can blend a tiny quantity, which is not the case with a personal or countertop blender.
Pudding/Purees: Be it pesto for Italian pasta or a salad dressing, an immersion blender is your best bet. All you need is your properly cleaned ingredients in a bowl and your blender on the other hand.
Here's a complete list of all the ways you can use an immersion blender.
If you are like me that loves homemade mayonnaise and whipped cream, then an immersion blender will be the perfect option for you.
Getting a good immersion blender requires you to consider factors like; blade guard, handle quality, corded or cordless, wattage, and others. We have compiled a list of the best immersion blenders on the market –
1.Breville BSB510XL Control Grip Immersion Blender
This blender is an excellent option with various outstanding features, from its ease of use to unique blade shape. The only thing to note is its price, as this immersion blender leans towards the pricey end of the spectrum.
2.Braun MQ7035X 3-in-1 Immersion Hand Blender
This blender is one of the most versatile immersion blenders out there, with uniquely designed blades that prevent splatter. This blender is also not the most affordable immersion blender but a worthy investment.
An outstanding feature to consider is its various components that increase your range of use options.
This affordable immersion blender is perfect for everyone on a budget. It does a great job blending soft foods, so don't expect it to work for smoothies or to crush ice.
Another downside is that this Hamilton beach immersion blender has a relatedly short shaft that requires you to blend in smaller batches.
PERSONAL BLENDER AKA BULLET BLENDERS
Personal blenders do just what the name says, serves you and you alone. This type of blender gained its place thanks to its portability and size that blends enough to produce a maximum of 2 servings.
If you are a one-person band and need something that blends a small quantity, look no further. Bullet blenders are the original smoothie makers but don't be naïve to think that's all they can do.
Uses
Frozen ingredients: Your personal blender will perfectly pulverize frozen fruits, ice, and nuts.
Smoothies: These personal blenders are the perfect kitchen appliance to come home to after a day at the gym. After a long day of strain, your muscles could use a tall solo glass of protein shake, and a personal blender will give you just that.
Batter: Not everyone likes to mix an omelet batter. If you need an extra hand when making breakfasts, then get yourself a bullet blender that'll help you combine your pancake batter until smooth.
Getting a personal blender is an excellent option if what's important to you is speed and portability. Also, it requires you to seal appropriately and turn over on the blade, so it is fairly safe for children to use. You should always remember to firmly attach the blade to prevent leakage when blending.
Here is a list of the best personal blenders on the market;
The Nutri Ninja Fit Personal Blender is a great fitness companion as some reviewers were stunned by the low noise it's 700watts motor produces.
Although this bullet blender is not the cheapest on the market, its tested durability makes it a worthy investment. It not only blends liquid, but users have used this device to reduce granulated sugar into powdered sugar.
This beauty comes with cups made from high impact glass and a 250 watts high torque base. Its portability is remarkable, and living in a small apartment or college dorm is no reason for you to avoid making smoothies at home.
The magic bullet blender is also affordable, so you don't have to break the bank.
You can load this blender with nuts, seeds, and hard fruits. What better way to invest in your health than to place an order? Its portability makes it easy to move around, and its 900watts motor base ensures it blends all your ingredients to a pulp.
However, one thing to note is that this blender is not to be used for more than 60 seconds at a time.
Most people compare the Nutribullet Pro to one of its major competitors, the NutriNinja Pro.
HIGH-PERFORMANCE BLENDER
We saved the best and most powerful for last. A high-performance blender has the largest capacity of all blenders. They are not only large but are extremely powerful compared to the types mentioned above. If your need is focused on power, then a high-performance blender is your best bet.
Their selling point is the robust capacity that allows them to blend larger and tougher ingredients. They are also great for commercial use as they can take a long duration of use.
The only thing you should note is high-performance blenders are as powerful as they are expensive. Compared to the other types of blender options, these ones will take a bigger portion of your pocket.
Uses
Master of all: A high-performance blender does it's name justice as it blends just about every ingredient in larger quantities. Whether or not your blender will blend dry ingredients depend on the brand. Still, most reviews show that most high-performance blenders grind dry ingredients even if not part of the manufacturer's specifications.
So if you'll need to blend foods and drinks in large quantities many times a day, then don't look further. Explore the best high-performance blender options for you;
This professional-grade blender saves you effort as you don't need to chop any ingredient before blending. It has a whopping 90-ounce jar making it a great option for commercial purposes. This device is compatible with both dry and wet ingredients. It also comes in different colors so you can match this powerful high-performance to your kitchen's interior décor.
2. Vitamix 5200 Blender Professional-Grade
This device is worth all the market hype. The Vitamix 5200 blender comes with aircraft-grade hardened stainless steel blades designed to blend the toughest of ingredients to give you the consistency you desire.
Its 64ounce container can make large batches; that way, you can make enough drink for your family and friends at once.
For a high-performance blender that has been around for a while, this device has maintained its reputation quite well.
3. Vitamix E310 Explorian Blender
This is the last but definitely not the list of the bunch. Although this Vitamix Explorian professional blender costs a fortune, it is worth every penny.
If you need a wide variety of programs and multiple settings, this blender was made especially for you. If you can be lazy at times like me, you should know this high-performance blender self-cleans. All you need to do is;
Put in some warm water
Add a few drops of soap
Turn it on
Relax, sit back and watch this blender clean itself.
Considering this blender costs more than the rest, it is expected for you to want absolute certainty it's the one for you.
9. How Much Noise Do You Mind?
Having your blender scream at you every time you plug it in can be a stressful experience. When speaking, we produce 67-71 dB noise, but a loud blender can produce as high as 85 dB, which will not be good on your eardrums.
If you don't mind the sound, then overlook this point. On the other hand, if you can't sacrifice your peace and quiet, then you should opt for a blender that produces very little noise or buy a sound enclosure for your blender.
Here's a post on my website about all the ways you can muffle the sound of your blender.
If you would rather buy a silent blender, then here is a list of the most silent blenders on the market. Note that these blenders give you silence at a high cost as they are far from affordable compared to standard noise-making blenders.
2. Vitamix 36019 the quiet one
3. Jamba Appliances Quiet Shield Blender
10. Should It Be Easy To Clean?
Considering most foods that need blending are cold, it is essential for the device to be kept sterile to avoid cross-contamination. Having a blender that is easy to use will make your experience in the kitchen an enjoyable one.
So, choose a blender that is quite easy to clean. You can know this by checking the manufacturer's cleaning recommendation to check if the device is dishwater safe. Other blenders like the Hamilton Beach Power Elite countertop blender and Vitamix Professional Series 5200 blender are self-cleaning.
Here's a post on my website on how to clean a blender.
11. Should The Lid Be Tight-Fitting?
When choosing a blender, pick one that has a tight-fitting lid that doesn't allow content to sip out of the jar. This feature is one that's often overlooked at the user's disadvantage.
12. How Much Warranty Do You Want?
Nothing builds trust like knowing you can return a malfunctioning product after you've used it. That's why you should opt for blenders that have warranty coverage. Most blender warranty lasts for an average of 1-2years.
13. Types Of Blades
The blade of your blender is the part that dismantles your food during the blending process. You will come across flat blades, angled blades, sharp blades, blunt blades, 3-piece blades, 4-piece blades, and so on.
No need to be confused. Just make sure to look out for blades made out of high-quality stainless steel and are removable. With removable blades, you have the option of taking them out to sharpen. Not everyone thinks doing this is necessary.
14. Do You Have A Preference For A Blender Jar? (plastic, glass, or stainless steel)
Your blender jar is the container that houses your food as it blends. Blender jars come in different sizes and materials like;
Glass
Plastic
Stainless steel
The glass and plastic blenders are recommended, but one crucial thing when choosing a jar is the pouring spout. Some blender jars have a hollow curved spout that makes emptying your blender effortless and safe.
Avoid blenders that come with a uniformly flat outlet that makes pouring challenging.
Frequently Asked Questions
How Do You Know If A Blender Is Powerful?
The secret to the power of a blender lies in its wattage. The higher the wattage of a blender, the more powerful it is and the harder the foods it can blend. If you wish to blend super hard foods like rice and grains, it is better to avoid blenders with low wattage as this can cause them to get burnt out.
Here is a list of high powered blenders that you can buy.
How Many Watts Is A Good Blender?
A good countertop blender should have an average of 500watts. This is not the case with an immersion blender, as you can have a good immersion blender with as low as 100-150 watts.
Just bear in mind that although a 100watt immersion blender may be affordable, you'll only be able to use it to mix juices and other liquids. Always choose a blender with a higher wattage if you need something powerful.
Are Glass Blenders Better Than Plastic?
Glass blenders are preferred plastic because;
It doesn't scratch and retains unpleasant markings.
It doesn't retain food odors after cleaning like some plastic blender jars.
It does not discolor and loses its clarity over time as compared to some plastic jars.
It maintains an aesthetically pleasing appearance longer than plastic.
Wrap Up
Deciding to buy a blender doesn't need to come with the turmoil of choosing which is best for you. The large pool of brand, size, and type options out there can be quite overwhelming for anyone.
Now you have nothing to worry about as we have provided all the information you need to pick the right blender. It's okay to have more questions still. Simply leave a comment below, and we will give you the answers you need!
Related Posts