Making homemade ice cream without an ice cream maker is a breeze with this Vitamix vanilla ice cream recipe. 
It's made with only four ingredients and takes just five minutes to make, so it's the perfect dessert for those hot summer days or as a special treat anytime! 
If you don't have a Vitamix blender, you'll want one because it will be worth every penny!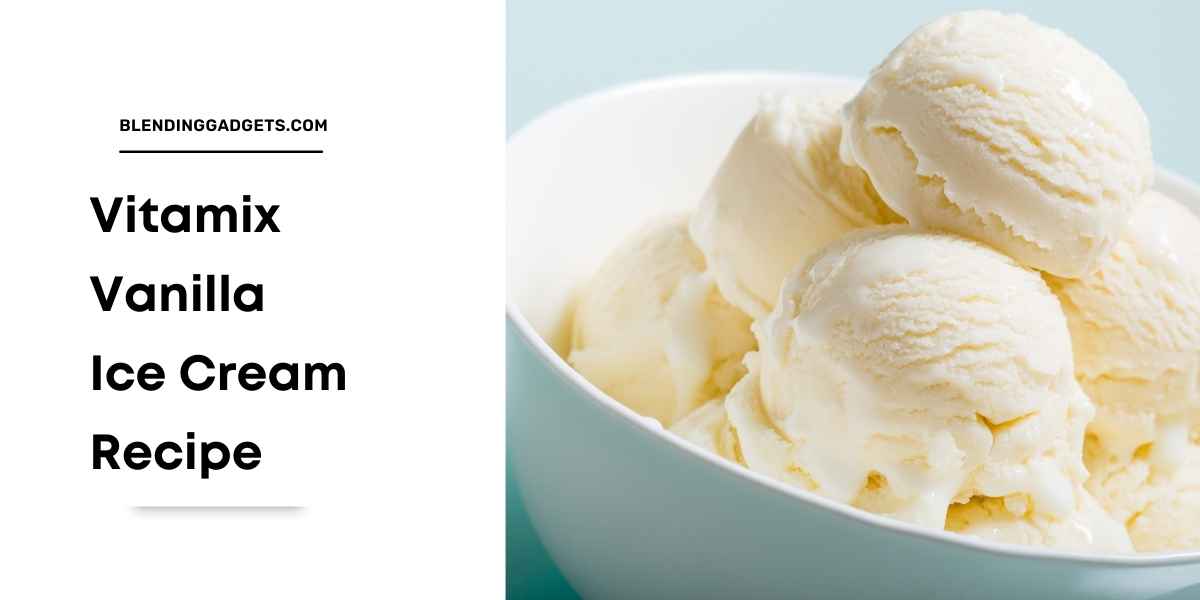 Why Should You Make Homemade Ice Cream With A Vitamix Blender?
Making homemade ice cream with a Vitamix blender is better than using other equipment because it comes out smooth every time without chunks of ice crystals. 
It'll be the creamiest ice cream you'll ever taste because the Vitamix blender breaks down frozen items while chopping up any chunks to make it smooth, thick, and fluffy.
The blades are sharp enough to cut through ice crystals so there's zero graininess when you make this recipe in a Vitamix versus using a regular kitchen blender or food processor. 
The Vitamix will save you time and money because you won't need to buy store-bought ice cream anymore (which is usually full of preservatives and other chemicals)!
Related Post: Does Vitamix Crush Ice?
What's In The Ice Cream Recipe?
This Vitamix vanilla ice cream contains just four ingredients – frozen ripe bananas, organic raw honey, vanilla extract, and plant-based milk. 
You'll need an extra tablespoon each of honey for drizzling on top before serving too!
How To Make Vanilla Ice Cream In A Vitamix?
Freeze fully ripe bananas for at least 2 hours.

Next, place all ingredients into the Vitamix container in the order listed and secure the lid.

Select variable 1. Turn machine on and quickly increase speed to Variable 10, then to High. Use the tamper if needed to press ingredients into the blades while processing until thick and smooth (about 5-6 minutes). If needed, stop the machine once to scrape down the sides of the container with a rubber spatula or pour halfway between blending stages so contents can re-incorporate.

Scoop ice cream into a freezer-safe container and drizzle remaining honey on top before serving! Now you're ready for summer fun! A few more recipes that come out great using a Vitamix blender are vegan chocolate pudding, best no-bake cheesecake, gluten-free pancakes (coming soon), and hot cocoa (coming soon).
Why Is Vitamix Blender Better Than Other Ice Cream Makers?
Many ice cream makers come with extra pieces you'll have to clean and, if you're like me, that's never a favorite task. 
I can't tell you how many times we've had an ice cream maker and it was just sitting on the shelf collecting dust because we didn't want to take the time out of our day to wash all those annoying pieces!  
Vitamix is different with its self-cleaning feature so there's no rinsing or scrubbing required afterward. This alone is such an easy way to make desserts, especially with kids!
Vitamix Ice Cream Recipe In 15 Minutes With Just 4 Ingredients
There's no other ice cream maker or blender on the market that can do all of these tasks in under five minutes. 
This Vitamix vanilla ice cream recipe is so quick and easy to make, you'll have a hard time keeping your family out of it! 
Plus, there aren't any additives so you know what ingredients are going into your body which is always better than processed food items.
The best part about this ice cream recipe is that you can add ingredients to make it your own style! You can add in peanuts, different extracts, change up the milk for plant-based options like almond milk, hemp milk, or coconut milk too. 
The possibilities are endless when you have a Vitamix blender and they're always delicious!
Which Is The Best Vitamix For Vanilla Ice Cream?
Choosing the best Vitamix for making ice cream is easy! 
There are so many different models and options to choose from so you can choose one based on your specific needs. 
For this vanilla ice cream recipe, we would recommend either a low-end or mid-range professional blender such as these:
If budget is not an issue, we recommend going all out and upgrading to the latest Ascent Series model like this A3500. It's our top pick because it comes with pre-programmed settings that make blending even simpler than before plus it has touch screen controls and five to ten variable speeds depending on the model.
If you're looking for a high-end commercial-grade blender, this Vitamix 750 is perfect. It was built to last and produces the smoothest blended creams because the blades are extra sharp which makes it cut through anything that goes into it!
The low-profile jar is easy to clean because it has self-cleaning technology and you can also use the motor base as a food processor when needed.
What Can I Use Instead Of Dairy Milk In This Recipe?
You may substitute any dairy-free milk if you prefer but we would recommend rice milk or almond milk to make this recipe vegan friendly. 
We would not recommend putting in coconut milk because it's very high in fat which means your ice cream will not freeze properly. 
The Vitamix vanilla ice cream recipe comes out perfect with any of the milk listed above!   
Why Do You Have To Freeze Bananas First?
Bananas are used for this ice cream recipe instead of fresh strawberries (or other fruits) like most recipes because they freeze extremely hard. 
When you freeze bananas, it makes the texture of the ice cream so smooth and creamy that none of your friends will be able to tell it's not dairy!
What If My Ice Cream Isn't As Thick Or Sweet As The One At A Restaurant?
If your ice cream isn't turning out as thick or sweet as the ones at restaurants, try adding another banana! 
If you want a sweeter option, use two bananas instead because one will make the consistency more ice-like. 
You can also add some honey or agave syrup to sweeten things up too. 
No matter how much you experiment with this vanilla ice cream recipe, it'll always turn out great because Vitamix blenders are made to last and they never disappoint!
What If My Banana Isn't Frozen Solid?
If your banana isn't frozen solid, don't worry because there are still plenty of ways to take advantage of this easy ice cream recipe. 
First, you can let it thaw for about an hour if the consistency isn't to your liking. 
Second, you can put in a couple of scoops at once into your blender and blend the rest as needed. 
Third, stick it into the freezer for 30 minutes before blending so it's nice and cold!
Once you make this recipe with bananas instead of strawberries (or other fruit), you'll never go back! 
This Vitamix vanilla ice cream recipe is healthier than store-bought options because there are no additives or preservatives plus fresh tastes way better anyway.
Vitamix Vanilla Ice Cream Recipe – Wrap Up
Make this recipe for your friends and they'll be amazed that it's vegan, dairy-free, gluten-free, soy-free, GMO-free, AND peanut-free!
Bananas are the main ingredient in making ice cream because they're one of the few fruits that don't require any preparation ahead of time. 
Simply peel the banana and stick it in a freezer bag or container to keep it fresh until you need it. If you forget about it for too long (like I often do) make sure to thaw it out before blending because there is nothing worse than rock-hard frozen fruit!
The Vitamix blender will cut through the banana in a matter of seconds to create a creamy, sweet and delicious dessert that's dairy-free, vegan friendly plus serves as a healthy snack. 
There are no added sugars or preservatives which means you can eat it guilt-free!
Give this recipe a try next time you need an easy treat for yourself or your friends after dinner! 
As long as you have frozen bananas in your freezer, you'll always have ingredients for this ice cream ready at all times. 
You won't be disappointed with this Vitamix vanilla ice cream recipe so give it a go today and let us know what you think!
Related Posts