Can I grind coffee beans in a Vitamix?
Yes, a Vitamix blender does a great job of grinding coffee beans. Grinding coffee beans to get the right taste and the right texture will require you to keep a sharp eye on the Vitamix blender to regulate the size of the grind (whether coarse or fine). You should use the dry container for this as the wet container is optimized for making smoothies.
What's the most efficient way to grind coffee beans at home? Can you make coffee grounds in a Vitamix? How do I do that? What are the best grinders for this?
These are some of the questions I wondered about when I got fed up with buying pre-ground coffee beans which tasted half as good as the ones I got from Starbucks. I know you must have been wondering the same questions too.
That's why I prepared this guide to answer this question. We will go on a journey of finding the best ways and grinders to prepare your coffee to get the aroma and taste right to have an enjoyable experience.
Everyone loves the aroma of freshly brewed coffee, which has been clearly reflected in Americans' drinking habits and Starbucks' popularity.
But what happens when you want some coffee at home or the office, without going out?
An option might be to buy pre grounded coffee beans and use them. But from my experience, pre-ground coffee beans do not taste quite as exquisite as the ones you freshly grind at home.
This is why you should know if you can grind beans in Vitamix and have them turn out great in terms of aroma, taste, and texture.
Using a Vitamix blender for grinding coffee beans is a relatively simple job that looks more complicated than it actually is.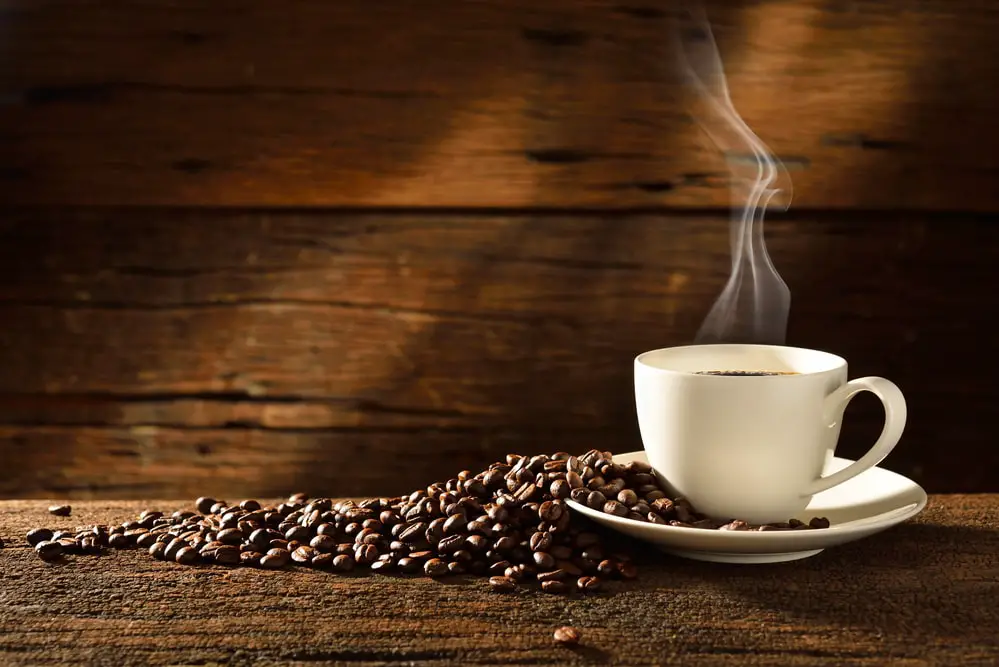 Grind Coffee Beans In Blender Or Food Processor?
Food processors are great for chopping up ingredients but they don't get them as fine as a blender does. processing large amounts of vegetables or even nuts, but blenders are perfect for smaller jobs such as pureeing sauces and soups.
And they don't take up nearly as much room on the countertop!
Can Vitamix Grind Coffee Beans?
For coffee lovers, there is nothing quite like starting the day with a freshly brewed cup of joe. And for those who prefer to grind their own beans, a good coffee grinder is essential.
But what if you could do away with the grinder entirely? Can you grind coffee beans with Vitamix? The answer is yes! The high-powered blades of a Vitamix can quickly and easily grind coffee beans to the desired consistency.
Whether you prefer a coarse grind for French press coffee or a finer grind for espresso, your Vitamix can handle it.
Just add the beans to the pitcher and let the machine do its work. In no time at all, you'll have fresh, evenly ground coffee ready to brew. Best of all, there's no need to worry about overloading your grinder or dealing with messy clean-up.
So if you're looking for an easier way to make your morning cup of coffee, try grinding your beans in a Vitamix. You might be surprise at just how well it works.
Why Use A Vitamix To Grind Beans?

There are several reasons why one should choose a Vitamix blender over any other brand or type of blender for grinding beans:
1.) The high-powered motor of the blender can handle even the toughest dry ingredients like spices, nuts, whole grains, and coffee beans with ease.
2.) Blades are extremely strong and durable.
3.) The container is BPA-free.
4.) The blades on a Vitamix blender spin at speeds of more than 240 miles per hour compared to other blenders that only reach speeds of about 100 mph.
5.) The dry container is designed with a vented lid and removable plug so that one can place ground beans into the container and then continue blending the contents without spills or messes.
6.) The dry container is also tall enough to accommodate the "headspace" at the top of the beans while they are being blended. This way no pieces go unground.
Read: The Powerful Starbucks Blender
How To Grind Coffee Beans In My Vitamix
Here is a step-by-step guide on grinding coffee beans in Vitamix dry container –
1.) Add your ground beans to the Vitamix container (dry jar).
2.) Turn on the machine at speed variable 1 or "low" setting for 15 to 30 seconds or until desired consistency is achieved.
3.) After grinding, pour ground coffee into your preferred coffee filter and brew as you normally would.
The bean that will turn out will be a coarse grind, just the way a lot of people like it. Now you can brew your coffee to your choice and sit back on the couch and relax.
Note, the quality when you grind coffee in Vitamix won't be precisely like Starbucks, but it will be at the maximum freshness, and that's all that makes a great cup of coffee.
After this, you should thoroughly wash down the grinder to remove all scents of coffee and all residual oil from it.
Related Read: Is A Vitamix Worth The Money?
Which Is The Best Vitamix For Coffee Grounds?
You should know that not all Vitamix grinders are designed for the same purpose.
Some Vitamix blenders out-perform others when it comes to grinding coffee, and they are selling out on Amazon.com.
The best 2 Vitamix Grinders I recommend for your coffee beans are:
1. Vitamix 5200
One of the best lineups from the Vitamix line is that the 5200 Blender has features to easily adjust blender speed to make up for changes in coffee texture.
The pace is enough to turn your coffee into a perfectly ground powder in minutes.
The Vitamix 5200 is also self-cleansing. That means you don't have to wash it yourself.
After use, simply put a few drops of dish soap into the blender and give it 30seconds to a minute to do all the work itself.
Related Read: Vitamix 5200 And E310 Comparison
2. Vitamix Ascent Series Dry Grain Container
The Vitamix Ascent Series is ideal for grains and grinding coffee; It also comes with self-detect technology and a Tritan container for faster rotation and more consistent blending.
Related Read: Vitamix Ascent Series vs Legacy Series
How To Grind Coffee Beans In Vitamix Without Dry Container?
When using a Vitamix blender to grind coffee beans do exactly what is mentioned above: add everything to the dry container and blend at low speed for about 15-30 seconds or until desired consistency is reached.
However, if you don't own one (which would be quite surprising considering how awesome they are!) then you can use any other kind of blender or food processor.
You don't have to worry about the blades not being strong enough because Vitamix blenders are designed to do heavy-duty tasks while still maintaining superb quality, durability, and functionality.
If this is your first time using a blender then just be sure that the lid is on tightly and if you feel it loosening during use, add a few drops of water to make it stick back together.
This may also happen if too much heat builds up from prolonged use so feel free to open the container from time to time and let some of the steam out.
Can You Grind Coffee Beans In A Vitamix Wet Container?
No, you should not. Using the Wet container of your Vitamix blender is not recommended.
Sure, you might try it, but the results likely will taste a bit grainy because the wet compartment is optimized for brewing drinks like smoothies and whatnot because of its blades that create a vortex that sucks content downwards.
Smoothies are best prepared using a wet container, but for coffee beans, not so much.
What Coffee Drinks Can You Make In Your Vitamix?
You can make anything from a basic coffee to a fancy frappuccino! A few examples of what you can make in your Vitamix blender include:
1.) Espresso
2.) Frappuccinos
3.) Lattes
4.) Iced coffees
5.) Smoothies
6.) Malts
7.) Shakes
8.) Coffee milkshakes
And so much more! You can even make your own almond milk and soy milk to use in shakes and other blended drinks. There are just so many possibilities!
What Type Of Beans Work Best In A Vitamix Blender?
Any type of bean works well in a Vitamix blender.
If you want to get super specific though, then Hawaiian or Hawaiian Typica beans are the best for this purpose. These beans have a smooth and balanced flavor that isn't too strong but it's definitely not weak either.
Related Read: Can I Use Blender To Grind Coffee?
Easy Vitamix Coffee Milkshake Recipe

Ingredients
1 or 2 scoops of vanilla ice cream or frozen yogurt
1 cup strong brewed coffee, cooled to room temperature
3/4 cup milk
Almond extract
Stevia sweetener (optional)
Instructions
All these ingredients should go in the blender at once so just throw them all in there!
If you are making more servings then adjust accordingly.
Blend until desired consistency is reached. Serve immediately and enjoy! (Optional)
Add some whipped cream on top of the milkshake.
Or if you want to take it one step further then add some chocolate sauce on top too.
Can You Use Vitamix To Grind Spices?
Yes, you can. You will need to buy a Vitamix blender that is optimized specifically for grinding spices.
If you are using the wrong blender to grind your spices, you may experience long-term damage. This will make your Vitamix grinder break down as the blender's standard blades aren't very good at grinding dry ingredients.
There is a spice grinder, and you can get some on amazon for the right price as they are perfectly suited to the job instead of stressing your standard Vitamix blender. Also, there is a Vitamix dry grains container suited for all types of spices.
If you want to go down this route, here are two efficient coffee grinders that are also optimized for grinding spices –
1. Aigostar Electric Coffee Grinder with Stainless Steel Blades
2. Secura Electric Coffee Grinder
Top 5 Coffee Grinders I Recommend After Vitamix
1. KRUPS F203 Electric Spice and Coffee Grinder
2. Hamilton Beach Fresh Grind 4.5oz Electric Coffee Grinder
3. OXO BREW Conical Burr Coffee Grinder
4. Cuisinart DBM-8CRM Supreme Grind Automatic Burr Mill, Cream
5. JavaPresse Manual Coffee Grinder
Final Verdict – Can You Grind Coffee Beans In A Vitamix Blender?
This company is dedicated to making the best and most efficient kitchen appliances. They strive for higher than average standards and they know that their customers expect nothing less than 100% satisfaction.
Their wide variety of commercial-grade blenders will ensure that your coffee beans are ground just right, every single time!
If you want to buy a Vitamix blender then check them out on Amazon because they offer free shipping as well as a great selection of different products (with very reasonable prices).
Don't go anywhere else though, make sure it's from Amazon or else you might miss out on those awesome benefits!
All in all, grinding coffee beans in a Vitamix blender is not only easy but it should also be quick and efficient too. This way you don't have to worry about how you are going to grind your coffee beans anymore.
Now all you have to do is open up the container, throw them in there and let it work its magic!
Related Posts