Ninja blenders are very popular in the world.
They are known for their unique properties and functions that make them very popular among people across the globe.
Moreover, Ninja blenders make different kinds of food items tasty and delicious.
Ninja blenders are professional grade.
They pulverize the food rather than chopping it up, which makes for smoother consistency in your drinks.
The blades are stacked instead of side by side, so there is less friction when blending.
This means that they can handle more ice without slowing down or overheating.
You'll be able to make delicious smoothies and shakes with ease!
Your family will love them and you'll feel great about serving them healthy meals full of vitamins and nutrients from fruits and vegetables.
No more worrying about what ingredients go into your kids' snacks at school because you know exactly what's going into their drinks now!
Plus, these blenders are fairly simple to use once you get the hang of them! They are not very quiet though!
Here are some ways to use your Ninja Blender –
In this post, let's look at an important question – how to work a Ninja blender.
Things To Keep In Mind When Using The Ninja Blender
1. Make sure that you have the motor base plugged in before using it!
2. Place the blade assembly before adding any of the ingredients into the container.
3. Do not turn on the blender without putting the lid on.
4. Never start the blender without any ingredients inside.
5. Do not put any blender accessories in the microwave, as this may cause harm to them.
6. Ninja blender blades are sharp. Handle with care. Use a spatula to clean any food particles on the blade assembly.
7. For blenders with glass jars, be very careful to not leave any object inside the pitcher before processing, as it may shatter the glass.
8. Don't leave the blender unattended.
9. Do not use the Ninja blender for hot liquids as this causes excessive pressure build up inside the container, and can cause injury to the user.
How To Use A Ninja Blender

It's a blender. But it's not just any old blender.
This is the ninja of blenders, and here are some ways you can use it to make your life easier in the kitchen –
1. Choosing A Ninja Blender
Ninja Master Prep Blender
Looking for a personal blender?
This Ninja Master Prep is great because it has several functions.
It can chop, blend, puree, dice, and blend food.
If you are looking for a blender that will make your life easier then the Ninja Master Prep Blender is the one for you!
It will save you time from having to wash out your old blender after every use and clean up any messes left behind by other blenders on the market today!
With this blender, there's no need to worry about cleaning up after yourself because it does all of the work for you!
The cons with this blender are that it is noisy and only has one speed.
Ninja Professional Blender
Do you want to make smoothies, shakes, and juices?
If so, then the Ninja Professional Blender is a great choice.
It has an 1100 watt motor that can crush ice in seconds and is one of the quietest Ninja blenders.
The 72 ounces (2.0 kg) capacity makes it ideal for entertaining guests or making large batches of food at once.
You won't have to worry about your blender not being able to handle big jobs because this one can do it all!
Ninja Mega Kitchen System
Looking for a blender that can do it all?
The Ninja Mega Kitchen System is the best kitchen system out there.
It's got a ton of features and comes with 3 Nutri Ninja cups so you can make your favorite smoothies, shakes, soups, sauces, and more.
Plus it has an extra-large capacity to hold up to 8 cups (1,900 mL) of whatever you want to blend or chop!
You won't find another kitchen system like this anywhere else.
With its powerful 1000 watt motor and 72 oz pitcher (8 cups), you'll be able to whip up anything from frozen drinks to homemade baby food in no time at all!
And if you don't feel like doing any work yourself, just use the auto-iQ one-touch blending technology – it does everything for you!
This blender also comes with 3 Nutri Ninja Cups which are perfect for making delicious smoothies right in your own home.
They come with their own lids too so they are easy to store away when not in use!
This set includes a 24 oz cup which is great for single servings while the other two sizes include 18 oz and 12 oz cups respectively.
Each cup has been designed specifically by nutritionists so that they have exactly what your body needs every day!
Nutri Ninja Pro
Need a quick and nutritious smoothie?
The Nutri Ninja Pro is great for making a single serving of your favorite drink.
It comes with an 18 ounces (0.51 kg) cup and a 24 ounces (0.68 kg) to-go cup, so you can take it on the go or enjoy it at home.
Plus, it has a nutrient and vitamin extraction system that makes sure you're getting all the nutrients from your food while keeping calories low.
This blender is easy to use because there are only two buttons on the base – one for power and one for a pulse.
You don't have to worry about overloading this machine either since its 900 watts of power will blend anything in seconds!
And if you want more than just smoothies, this blender also comes with three different types of cups so you can make soups, sauces, dips, or even baby food!
Ninja Ultima Blender Plus
Looking for a blender that can crush ice, frozen fruit and vegetables, and even nuts?
The Ninja Ultima Blender Plus is one of the most powerful blenders on the market.
It has 1500 watts of power to ensure that you get smoothies with no chunks.
This blender comes with 10 speeds so you can make everything from soups to nut butter to baby food in minutes!
You'll love how easy it is to use this blender because it only takes 3 steps. Simply add your ingredients, press start, and enjoy!
The Ninja Ultima Blender Plus also comes with three single-serve cups so you can take your favorite drinks on-the-go.
2. Assemble Your Blender

To put the base on, you need a dry, level surface. Put it there.
Put the pitcher on the base.
Turn the pitcher so that it is to the left, and then turn it back. This will make the pitcher slide down and the safety tabs on the bottom of it will go under the ones on top of the motor base.
You can put the pitcher on the motor in two ways. You can have it on the front right corner or the front left corner.
Hold the blade assembly by the shaft. Put it inside of the pitcher on top of the gear.
Make sure the blade is standing up straight and make sure it fits around the gear.
Note: The Blade Assembly will be loose when you put it on the Drive Gear.
Related Read: How To Put The Ninja Blender Together
3. Use It For Blending

Let's see how to set up Ninja blender the right way for blending –
Plug-In The Blender
You're going to want to plug in your Ninja Blender before you use it.
The blender is a great kitchen tool, but if you don't plug it in first, it won't work at all!
If you have an outlet near the counter where you plan on using the blender, then just find that cord and plug it into a socket.
Make sure not to unplug it while using the blender or else… well… bad things will happen.
Open The Lid

Locate a rectangular button on top of the lid and press it with your finger.
Remove the lid of the box by pressing this button.
Add Your Ingredients
Add your ingredients at this point.
This is a list of the ingredients that you can add to the blender –
1. Frozen fruit
2. Smoothies
3. Soups
4. Nut butter
Please note that –
1. You can't put hot liquids in a Ninja blender.
2. Don't put anything with seeds or pits in the blender.
3. Avoid putting any hard foods like ice cubes, nuts, and dried fruit into the blender.
4. If you're making soup, don't blend it until it's completely smooth.
Choose A Setting
There are many Ninja blender settings to choose from.
You can chop and process in pulse mode.
Pulse is the best setting for chopping vegetables such as onions, carrots, potatoes, celery.
The Ninja blender has a lot of settings for how you want your ingredients blended.
If you're new to blenders, I recommend starting with speed 1 which is the first option on the dial and then moving up to 2 or 3 if need be.
Speed 1 will mix your ingredients together slowly but it does solve most blending needs quite effectively.
It's also best used when adding liquid ingredients like milk or juice as this setting ensures that everything moves around smoothly and doesn't get too caught in one place.
However, if there are tough chunks of something frozen like ice cubes, for example, use either speed 2 or 3 instead because those speeds ensure that all parts of the ingredient are blended well and give a consistent texture throughout.
Blend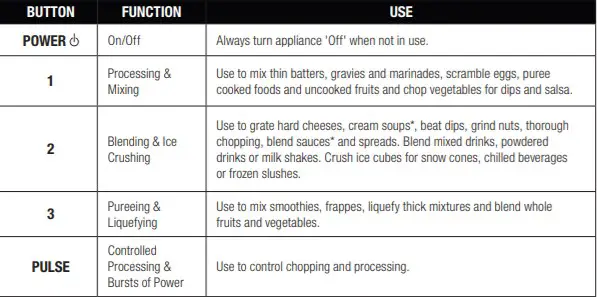 If you need to add ingredients while the blender is running, open the pouring spout cap and pour them in through the opening.
Press the power button or the same speed button a second time to stop the blade. You can also press a different button if you want to change the speed.
Single Serve Option
It's a good idea to use the single-serve option.
Some Ninja blenders give this option, and it prepares enough quantity for a single person.
If your blender has this option, simply insert the cup after removing the pitcher.
Then, press the single-serve button on the panel to start the process.
Empty The Contents
Turn off the appliance by pressing the power button. Wait for the Stacked Blade Assembly to stop moving before removing the pitcher.
Open the spout cap. Pour the liquid out through it.
If you have thicker liquids, first remove the lid and then remove the blade base by pulling it up to a 90-degree angle. Then pour out your liquid.
Make sure that the unit is unplugged when not in use.
Related Post: How To Start A Ninja Blender
3. Use It As A Food Processor

Ninja Blenders are amazing kitchen appliances that can do more than just blend.
They're versatile, powerful machines that can help you make a variety of different foods and drinks.
But if you don't know how to use Ninja Blender as a food processor, then your Ninja might be sitting in the corner collecting dust.
If you're interested in new ways to use your Ninja Blender, it just might be time for a food processor.
The process is actually quite simple and requires just a few extra steps than juicing or blending the machine would entail.
To start off, it matters which Ninja Blender you have at home – if you have the Ninja Prep Master Blender, then this section can be skipped altogether as that particular model comes with everything needed to turn into a food processor!
Start by putting one type of ingredient in at a time, pulsating the blender.
Try to break carrots or cut an onion up before adding them if you can.
Otherwise, it's not necessary to do so!
If you want to make your life easier, put all fruit and vegetables on the bottom and then place high-out-of-reach ingredients like eggs or pineapple above that.
Once everything is in there just turn it on and let the power do the work for you!
4. Use It As A Juicer

Do you want to make healthy juices without the hassle of a juicer?
You can use a Ninja Blender as a juicer. It's easy, fast, and convenient. Plus it's much easier to clean up than a traditional juicer.
You can make delicious juice out of fruits and vegetables with your ninja blender, but you need to know how to do it properly.
1. Fill the blender with your favorite fruit and veggies.
2. Blend on high for 30 seconds or until desired consistency is reached.
3. Pour the juice into a glass, add ice to taste, and enjoy!
5. Cleaning The Ninja Blender

Cleaning the ninja blender is a pain.
It's not that it's hard to clean, but you have to be careful with the blades.
You can cut yourself if you aren't paying attention when cleaning them.
The best way to avoid injury while cleaning your ninja blender is by using a bottle brush and hot water.
This will help loosen any food particles stuck in the blades or lids of your ninja blender so they are easy to rinse off later on.
CAUTION: You must unplug the base before you take out or put in the blades.
Cleaning The Pitcher
It comes with an easy-to-use pitcher that makes it simple to blend up smoothies, shakes, and other recipes.
However, if you don't clean out this pitcher after each use, then bacteria can grow inside and make you sick!
The good news is that it's actually pretty easy to do! In fact, you can clean the pitcher and cups in just a few minutes.
It doesn't take much time at all, but if you want to make sure your blender lasts for years then it's important that you keep up with regular maintenance.
By cleaning out the pitcher and cups regularly, you won't have any trouble with leaks or drips while using them later on down the road.
Plus, keeping everything nice and clean will help prevent mold from growing inside of them which could be harmful to anyone who uses them after they haven't been cleaned properly!
Clean off the remaining food particles using warm water and mild soap, and rinse them off with warm water.
Wash out your pitcher by hand using hot water and a sponge, be sure to scrub away any stubborn bits of dirt or grime.
Finally, after thorough rinsing, use hot soapy water to rinse it thoroughly for an extra layer of protection against bacteria.
Using Dishwasher
You don't have to worry about cleaning up after yourself because Ninja Blender comes with a dishwasher-safe pitcher and blade assembly.
Put the blade and lid assemblies on the top rack. Pitchers can be placed anywhere. It's best to wash them by hand if you can.
Washing The Base
The base of your blender picks up dust over time.
This is normal and will not affect the performance of the product.
If you notice any stains, wipe them off with a clean damp cloth.
Do not get the cord or any electrical outlet wet as this could cause damage to both items.
Storing The Blender
Put the blender with blades in it on top of the pitcher. Don't put anything else there. Put the cord in the space where it is safe.
Resetting The Motor
The Ninja® Professional Blender has a unique safety system.
If you overload it, the motor will stop. You can wait 15 minutes for it to cool off and then turn it on again.
Follow these steps to reset the motor –
1. To turn off the appliance, unplug it from the electric slot.
2. Make sure there is no food in the container. It can stop the Stacked Blade Assembly from working.
3. Wait for the appliance to cool before touching it.
4. Put the pitcher back where it is supposed to go. Then plug your appliance into an electrical outlet.
5. Before you use the appliance again, be sure not to fill it up too much. You shouldn't exceed the maximum capacity.
Related Post: Ninja Blender Too Loud
Conclusion
Do you know what's a pain in the butt?
Chopping up ingredients for your favorite recipes.
It takes time, and you have to be careful not to cut yourself.
But with Ninja blender, all that goes away!
With its powerful motor and sharp blades, it can chop through anything like butter.
Plus, it comes with a bunch of different attachments so you can make everything from smoothies to soups. And clean-up is super easy too!
Get yours today!